Rostov - Olimp-2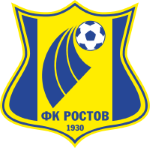 Les hôtels près de le Olimp-2
Rostov
La recherche pour les hôtels près de Olimp-2
Nous offrons une vaste gamme d'hôtels près du stade du Rostov allant des hôtels bon marché aux hôtels de luxe haut de gamme. Recherchez dans notre base de données d'hôtels pour trouver les meilleurs tarifs à proximité de le Olimp-2.
Les informations sur le Rostov et le Olimp-2
La capacité: 15,840
Le lieu: pr. Sholokhova, 33, Rostov, Rostovskaya oblast', Russia, 344029

Rostov Arena is another new stadium for the 2018 world cup. After the world cup, not only will the capacity reduce due to 42,000 due to some temporary seating, but will play host to FC Rostov who currently play at Olimp-2 stadium. It is part of a larger expansion of the city centre lying on the southern bank of the Don River with resturants and shops to attract new people and investment. During the initial ground preparation, five preserved shells were found from the Great Patriotic War.

FC Rostov have enjoyed recent success in the Russian Premier League with a runner up finish in the 2015-16 season earning a Champions League qualification spot. After a 2-2 draw at home to Anderlecht, they overcame the odds and secured a 2-0 away win. Facing Dutch giants Ajax in the final qualifier, they held onto a 1-1 draw in the home leg, before a shocking 4-1 home win qualifying them into a group against Bayern Munich, Atletico Madrid, and PSV Eindhoven.

The Olimp-2 stadium has a capacity of 15,840 so the Rostov Arena will prove to be a huge upgrade to both FC Rostov and the town of Rostov-on-Don whos Champions League success will no doubt draw more popularity in future seasons.

Once an ancient Greek colony, Rostov-on-Don holds cultural and commercial importance due to the proximity of the mouth of the Don river. After the Battle of Rostov during WWII, The Nazis occupied Rostov for seven months. It took ten years to restore the damage to the city after the war. 27,000 Jewish and Soviet civilians were massacred by German military in two days during August 1942.

Tourists can enjoy a gorgeous walk alongside the Don River Lookout or "The Enbankment". Not just beautifully picturesque, but restaurants, statues, fountains, shops, as well as the centre of nightlife for Rostov. There's good shopping at the Central Rinok which is a bazaar. Be wary of drinking the local tap water.

The airport is tiny and crowded but offers a range of international and domestic flights. Flights to Moscow are similar in cost to trains and take two hours rather than sixteen.

In June temperatures typically range from 16-27°C.